Facts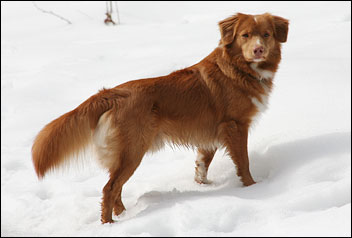 Name: Ember red Neelix the Dreamworker
Callname: Lucky
Birthday: 03.10.2007
Pedigree No.: DRC-T 07-0327
Father: Futte
Mother: Burning red Sun the Dreamworker
High: 47 cm
Weight: 18 kg
Breeding authorization test: Excellent
Breeding permission: Deutscher Retirever Club e.V.
Owener: This email address is being protected from spambots. You need JavaScript enabled to view it.
Healthresults
Hips: A2
Elbows: 0/0
PRA: carrier
CEA/CH: carrier
Eyes: clear 10/2010
Tests
Character test
Companion dog test
APD/A (Dummytest Beginnerclass)
Charactertest
The 20 months old Toller male showed a very balanced kinesic behavior. He behaved persistent and very alert. His playing attitude is shown in a pronounced way, just as the predatory instinct. He has a very good liaison and willingness to subordinate. With non-natives he is confident and friendly. In the alleyway of persons and laying on his side he is totally unimpressed. In the optical and acoustical area he is unimpressed. The male is not gunshy.
Judge: Klaus Karrenberg
June, 27, 2009
Show-Assessed Merit
20 months old, well balanced, a bit teenaged looking male. Typical masculine head with gentle expression. Excellent neck and backline. Well matured rib cage, excellent coat, good color and markings. The angulations could be a bit distinctive. Powerful movement and soft behavior. He is on the lower side of the limit (47cm).
Overall evaluation: Excellent
Judge: Mrs. Beate Ting
June, 11, 2009