We are Sandra (born 1973) and Sascha Fock (born 1972) and we call Rieschweiler, a small village in the southwest of Germany, home. Rieschweiler's approximate location is between the cities of Kaiserslautern and Saarbrücken. Our house is not far away from the woods, fields and open countryside.
Both of us have grown up with mixed breed dogs, but at one point the decision was made for a pedigree dog. After lengthy consideration and research which breed would suit to us, in August 2000 our first Nova Scotia Duck Tolling Retriever female moved in. Since that time, our life has completely changed in a positive way.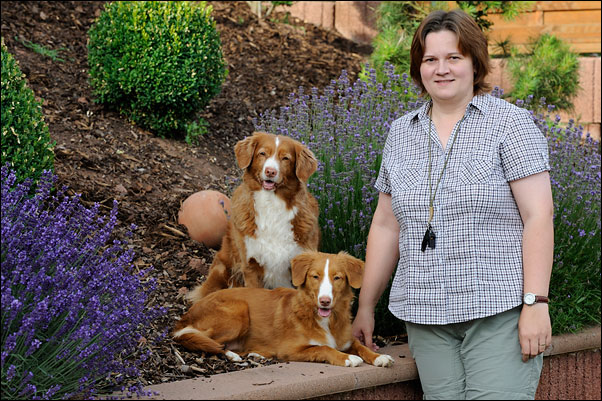 Both of our foundation bitches, named Sockx and Skye, came from the former Belgian Kennel: "Copper and Brass's". At that former time the onliest Belgium breeders which have trained their dogs successful for Workingtests, Field Trials and hunting.
In the beginning it was not our plan to become breeders. Our first bitch Sockx fulfilled the health clearances of the German Retriever Club and we had a lot of fun in working with her. In only a very short time it was possible to fulfill the preconditions of the Club. I (Sandra) passed a lot of tests with her national and international. Thereby I learned a lot about training and handling Tollers. Furthermore I also had several years by volunteer instructor and treasurer from the district group Saarland from the German Retriever Club.
By working with the dogs I (Sandra) came more and more in touch with real Hunting. It caught my fascination more and more from day by day. So since 2009 I'm a owner of a hunting license.
Since 2010 I'm a member of the breed commission for the Tollers of the German Retriever Club. I'm in touch with a lot of breeders at home and abroad and for me it's very import to exchange information.
We train our dogs for hunting and additionally with Dummy (Bumper) training. We are very familiar with companion dog training, Obedience and Agility. By some puppy buyers we see behind the curtain of Search and Rescue dog work, too. All our dogs we use for breeding passed a personality test.
Because of lots of scandals with animal food the last years, our dogs were raised with "Natural Dog Food" or "BARF" (Bones And Raw Food). It is always a good feeling to know what you put in your dogs food bowl.
Our first litter was born in November 2002. Our goal is to breed healthy, good looking Tollers which should have a sound character and typical "will to please". Our ambition is the dual purpose Toller. Our dogs are also our pets and live inside the house with us. We own 3 Toller females, one USA-Import male and a female German Sheperd called Ivy.
In selecting a studdog we care a lot about health, character, willingness to work and appearance. To find a suitable male sometimes takes up to one year.
The puppies grow up in our house and garden. They were imprinted on daily things and drive with us in the car. They are dewormed several times and get a primary immunization as it is requested from the German Retriever Club. They are microchipped and get a pedigree from the German Retriever Club.
Naturally, we will just as carefully screen any of our potential buyers, because a Toller isn't just for anyone. Furthermore it is a big concern to us that any sort of training is given to the dogs. It is not required to hunt with your dog but you should feel up to do Retriever work, as for example Dummy training. We do not work with a waiting list. At the end the sympathy decides.
Take some time now to explore our homepage and if you are certain that this breed is for you, we will gladly answer any questions you may have.
Sandra & Sascha
(April 2016)